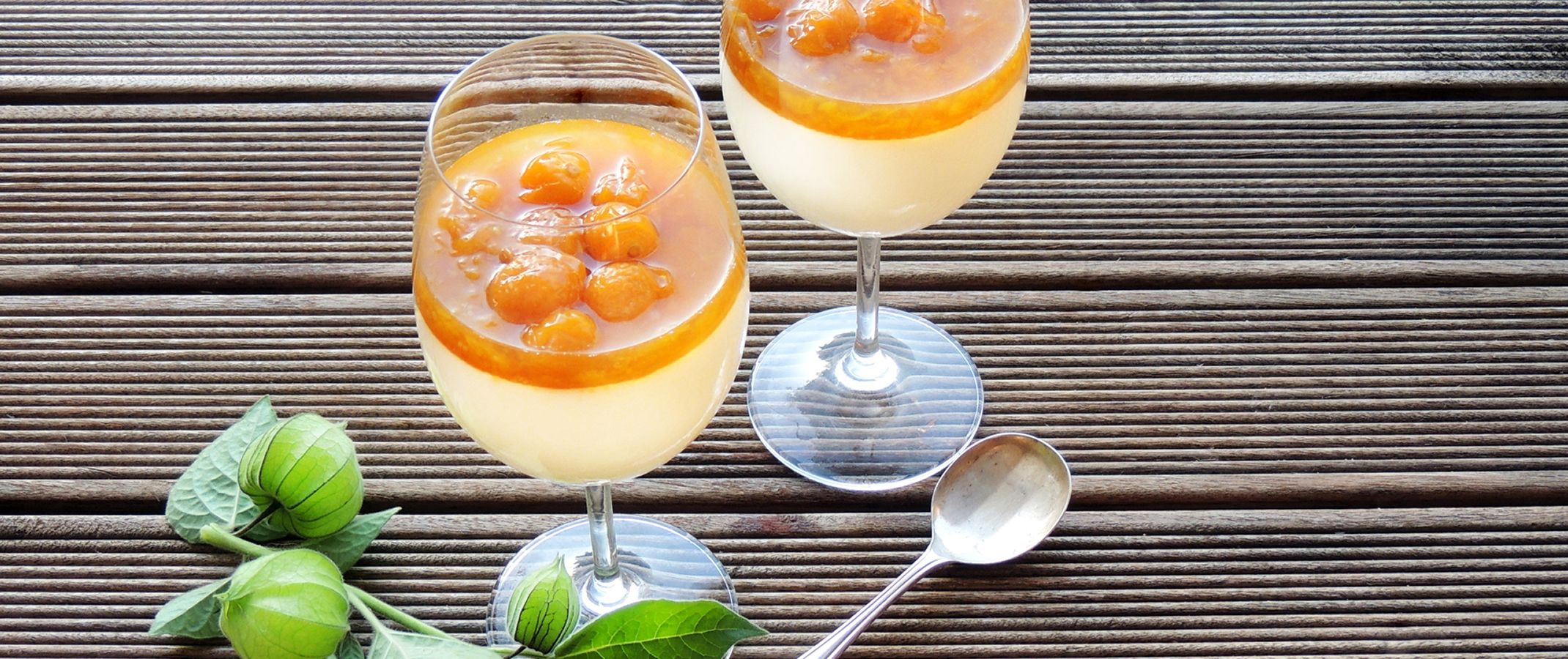 A delicate, barely set vanilla cream topped with a glorious sunset-orange compote of Verjuice and Cape gooseberries. Verjuice enhances the lovely tartness of ripe gooseberries, and the contrast of cool-and-creamy with sharp-and-sweet is sublime. You can prepare this dessert well in advance and assemble it at the last minute.
Serves 4
1. Put the cream, milk and caster sugar into a saucepan. Split the vanilla pod lengthways, scrape out the seeds and add them to the pan (or add the vanilla extract, if you're using that). Bring gradually to just below the boil, over a low heat, stirring now and then.
2. When the sugar has dissolved, take the pan off the heat and gently press a sheet of clingfilm directly on the surface of the mixture (this will prevent a 'skin' forming). Set the cream aside to infuse for 45 minutes, or until it has cooled to blood temperature.
3. Put the water into a small teacup or ramekin, sprinkle over the gelatine and set aside to 'sponge' for 3 minutes. Now put the cup into a pan of simmering water (the water should come halfway up its sides) and leave it there for 3 minutes, or until the gelatine has melted and the liquid is clear. Whisk this into the cream mixture, then strain the cream through a fine sieve into four wine glasses. Chill for at least 5 hours, or until the panna cotta has set, but is still very wobbly.
4. To make the compote, put the gooseberries, Verjuice and caster sugar into a saucepan and bring to a gentle simmer, skimming off any white foam as it rises. If the gooseberries are very tart, you may need to add a little more sugar. Simmer for about 7 minutes, or until the fruit is just beginning to collapse. Remove from the heat, tip into a bowl, cover, and refrigerate until very cold.
5. When you're ready to serve, remove half the whole gooseberries from the bowl using a slotted spoon and set aside. Use a potato masher or fork lightly to crush the remaining berries. Spoon a layer of the crushed fruit over the top of the panna cottas, and top with the whole berries you put aside.
For the panna cottaé:
300 ml cream
300 ml full-cream milk
5 Tbsp caster sugar
1 vanilla pod, or a few drops of good vanilla extract
4 tsp tepid water
2 tsp gelatine powder
For the compote:
200 g Cape gooseberries
½ cup Verjuice
2 Tbsp caster sugar (or more, to taste: see recipe)