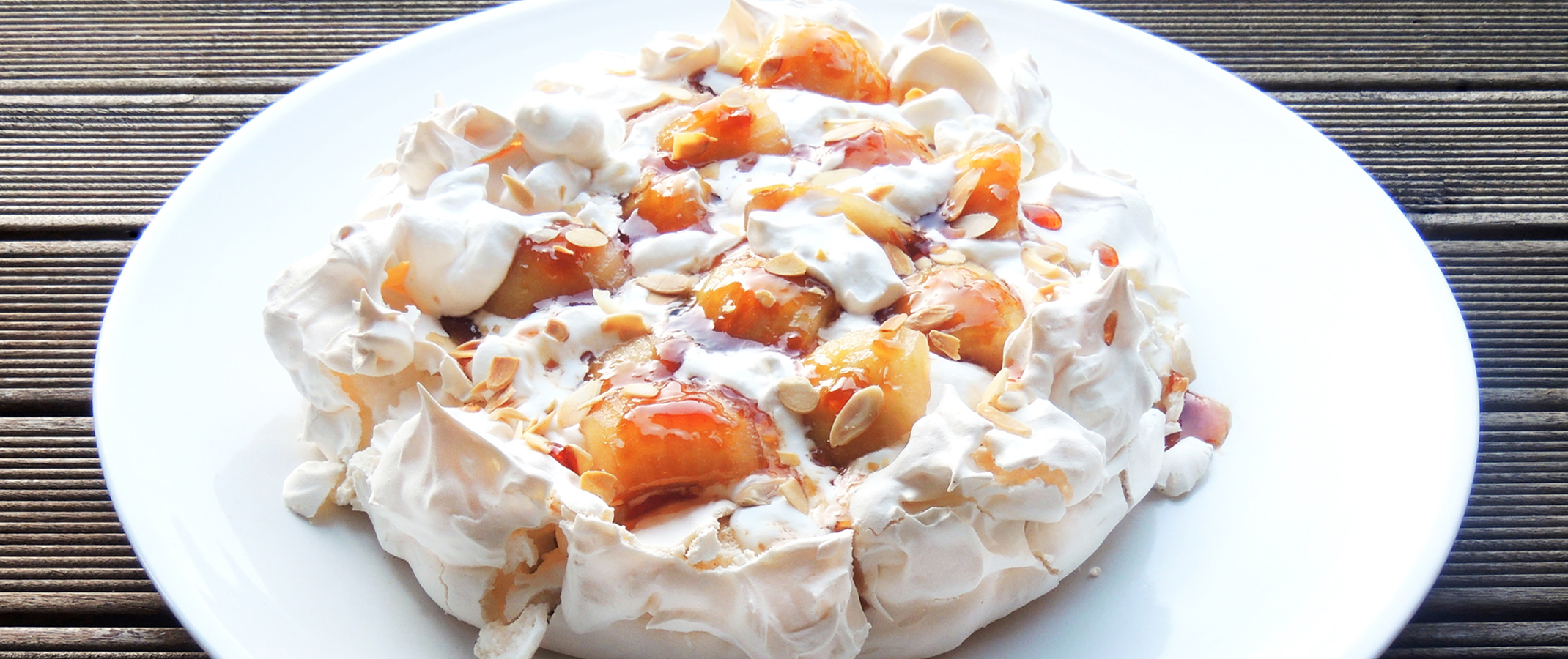 Apples and almonds have a great affinity with Verjuice. Although apples are not a traditional topping for a Pavlova, they work beautifully in this recipe, with its extravagant, brittle nest of almond-scented meringue, its clouds of whipped cream, and a reduced Verjuice syrup that's just on the point of turning to caramel. The Pavlova should be made 8-10 hours ahead of time, and you can also prepare the apple filling well in advance.
Serves 6
1. First make the Pavlova. Heat the oven to 160 ºC. Separate the eggs and place the whites in a spotlessly clean bowl together with a pinch of Cream of Tartar. Using an electric beater or a food processor fitted with a balloon whisk, beat the egg whites until they are standing up in stiff peaks.
2. Add a third of the caster sugar at a time to the whites, whisking well for a few minutes between each addition. When you've added all the sugar, dribble in the almond extract, to taste, and continue beating for another 3-4 minutes, or until the meringue is very thick, firm and shiny (with no sign of grittiness when you rub a blob between your fingers) and easily holds its shape without drooping.
3. Line a baking sheet with greased baking paper (put little blobs of meringue on four points under the paper to stick it down). Draw a plate-sized circle on the paper, spread a third of the meringue mixture over it to form the base, then place big dollops of the remaining meringue around the edges to form a basket.
4. Place the baking sheet on the middle rack of your preheated oven, and immediately turn the heat down to 110 ºC (oven fan off). Bake for an hour and a quarter, then switch off the oven (don't open the door!) and let the meringue case dehydrate, undisturbed, for at least 8 hours, or until it is crisp and dry.
5. To prepare the apple filling, put one cup of Verjuice and the caster sugar into a pan. Bring to a gentle boil, stirring occasionally to dissolve the sugar. Add the apples and poach, covered, for 9-12 minutes, or until they are soft. Set aside to cool completely.
6. To assemble the dessert, remove the apples from their syrup with a slotted spoon and set aside. Add the remaining ½ cup of Verjuice to the syrup, turn up the heat and boil over a medium-high heat for 10 minutes, or until the syrup has reduced by about two thirds, is turning to an amber colour, and is thick, glossy, and producing plenty of big lazy bubbles. Watch the mixture like a hawk – you want it to be just on the point of caramelising.
7. Whip the cream to a soft peak, pile it into the Pavlova and arrange the apple pieces on top. Drizzle the hot syrup over the top, scatter with toasted almonds and serve immediately.
For the Pavlova:
5 extra-large free-range eggs
a pinch of Cream of Tartar
5 Tbsp caster sugar
250 g caster sugar
a few drops of good almond extract
For the filling:
5 large crisp apples, peeled, cored and quartered
1½ cups Verjuice
½ cup caster sugar
300 ml whipping cream
¼ cup flaked almonds, lightly toasted in a dry frying pan