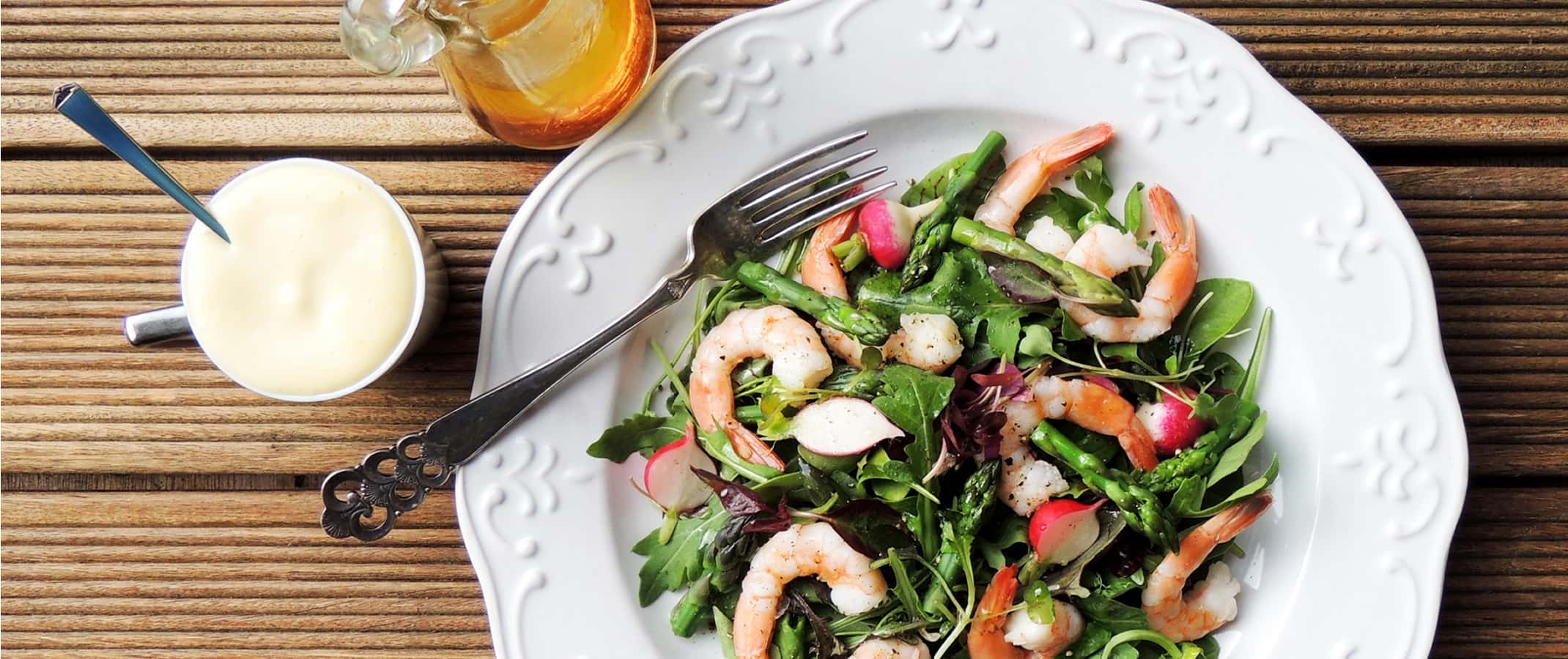 Verjuice is wonderful for making salad dressings with a slightly sweet, subtle zing. Its gentle acidity makes it the perfect companion for ingredients with a delicate taste, such as prawns. In this spring salad, a two-ingredient dressing and a clean-tasting homemade mayo make magic with ready-cooked prawns, asparagus, salad leaves and peppery baby radishes.
Serves 4
1. To make the mayo, put the egg yolks, salt and mustard into a bowl. Tuck a damp cloth under one side of the bowl to tilt it. Using an electric beater, whisk the yolks until creamy.
2. Mix the two oils in a small jug. Turn the beater to its highest speed. Now, as you whisk the egg yolks with one hand, dribble the oil onto the yolks, a few drops at a time, with the other. Continue patiently whisking and dribbling on the oil, a little at a time, and within a few minutes you will see the egg mixture begin to thicken. Keep adding the oil in a small steady trickle until you have a thick, pale yellow ointment. (See Cook's Notes, below.)
3. Stir in the Verjuice, lemon juice and Tabasco and season with salt and pepper. Chill.
4. To make the dressing, combine the Verjuice and olive oil in a small jar or jug.
5. Blanch the asparagus tips in boiling salted water for 1-2 minutes, or until just tender-crisp. Drain then plunge into a bowl of iced water to set the colour. Leave for 3 minutes, then pat dry on a clean towel.
6. Place the salad leaves on four plates and arrange the prawns, asparagus and radishes on top. Drizzle with the dressing (give it a good shake first) and serve with the mayo and plenty of warm crusty bread.
———————————–
Cook's Tip:
If your mayo 'splits', or does not thicken, start again with a clean bowl. Place a whole egg in the bowl, whisk till creamy, and very gradually dribble on the split mayo mixture, whisking all the time, as above. In most cases the mayo will re-emulsify.
350 g asparagus tips
a packet of mixed salad leaves
200 g Woolworths ready-cooked peeled prawns
8 baby radishes, halved lengthways
For the dressing:
100 ml Verjuice
100 ml extra-virgin olive oil
For the mayonnaise:
2 extra-large free-range egg yolks, at room temperature
flaky sea salt
1 tsp Dijon mustard
200 ml sunflower oil
100 ml extra-virgin olive oil
3 Tbsp Verjuice
1 Tbsp fresh lemon juice
1 tsp Tabasco, or more, to taste
milled black pepper