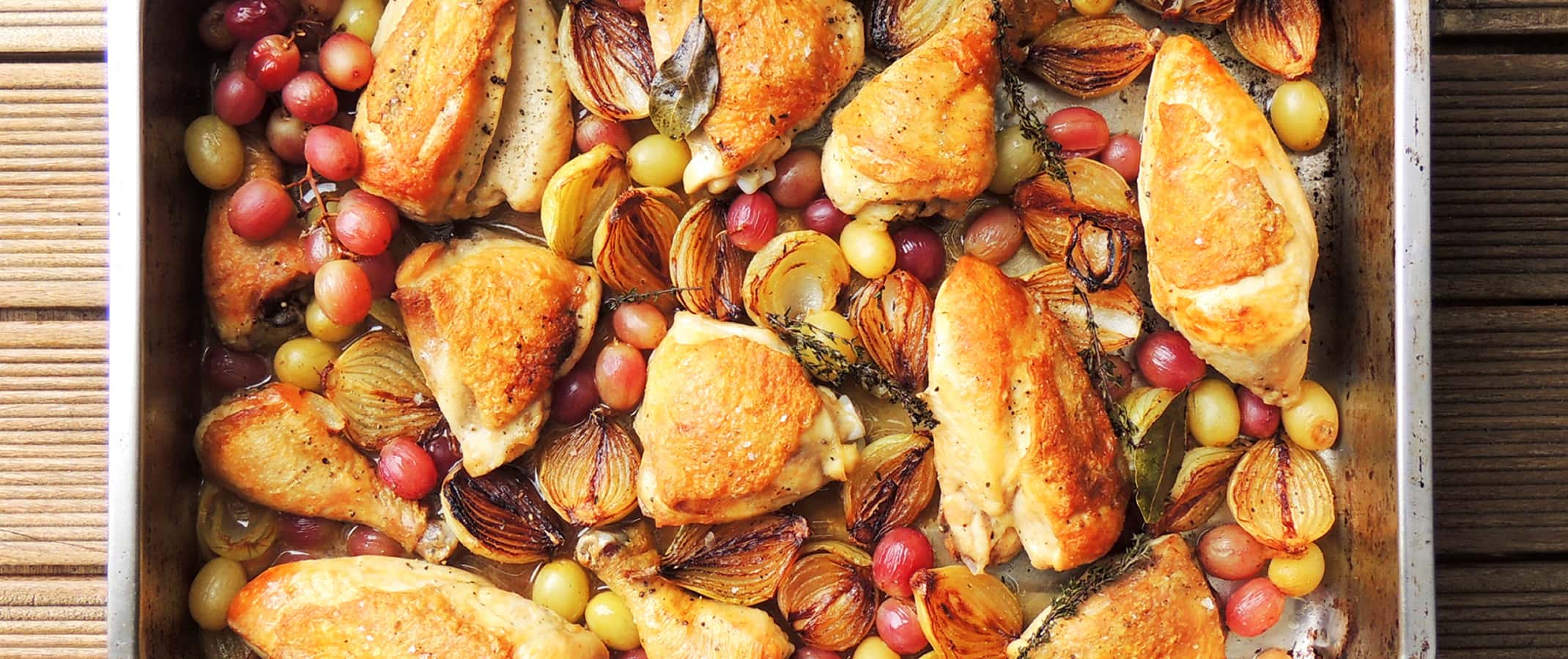 This unusual but delicious combination of clean fruity flavours highlights the versatility of Verjuice, which lends a pleasant sweet acidity to this rustic dish. It takes a little time to fry the chicken pieces and onions before they go into the oven, but it's well worth the effort, because the sticky golden residue that forms on the bottom of the pan adds gorgeous flavour to the final dish.
Serves 4-6
1. Heat the oven to 180 ºC. Cover the onions with boiling water and set aside for 15 minutes (this loosens their skins).
2. In the meantime, heat the oil in a large shallow pan and fry the chicken, in batches and skin-side down, over a medium-high heat, until the skins are crisp and a beautiful golden brown. (Don't turn the pieces over or let them cook through.) Set aside on a plate.
3. Cut each blanched onion in half lengthways, trim the tops and bottoms, and slip off the skins. Fry, cut side down, in the hot chicken fat left in the pan, for 3 minutes, or until nicely caramelised.
4. Watch them like a hawk so they don't burn. Carefully turn the onions over using tongs and fry for a further 3 minutes. Remove with a slotted spoon and set aside on a plate.
5. Add the bay leaves, thyme sprigs and garlic to the pan and cook over a low heat for a minute, without allowing the garlic to brown.
6. Deglaze the pan with the Verjuice and wine, stirring and scraping to loosen the golden sediment on the bottom of the pan. Tip any juices that have accumulated under the chicken into the pan. Simmer over a brisk heat for two minutes to burn off the alcohol.
7. Arrange the chicken pieces and onions in a roasting tray, and tuck in the grapes. Pour the hot wine/Verjuice mixture around the chicken, and scatter over the bay leaves and thyme sprigs. Season to taste with salt and milled black pepper.
8. Bake at 180 ºC for 40 minutes, or until the chicken is cooked through and the grapes are beginning to collapse.
9. Serve immediately with a crisp green salad, plus crusty bread to mop up the juices.
20 (about 750 g) small pickling onions
3 Tbsp oil, for frying
12 chicken pieces (breasts, thighs & drumsticks)
2 bay leaves
6 small sprigs fresh thyme
3 cloves garlic, peeled and crushed
½ cup Verjuice
½ cup dry white wine
1 bunch red grapes, stripped from their stems
1 bunch green grapes, stripped from their stems
salt and milled black pepper