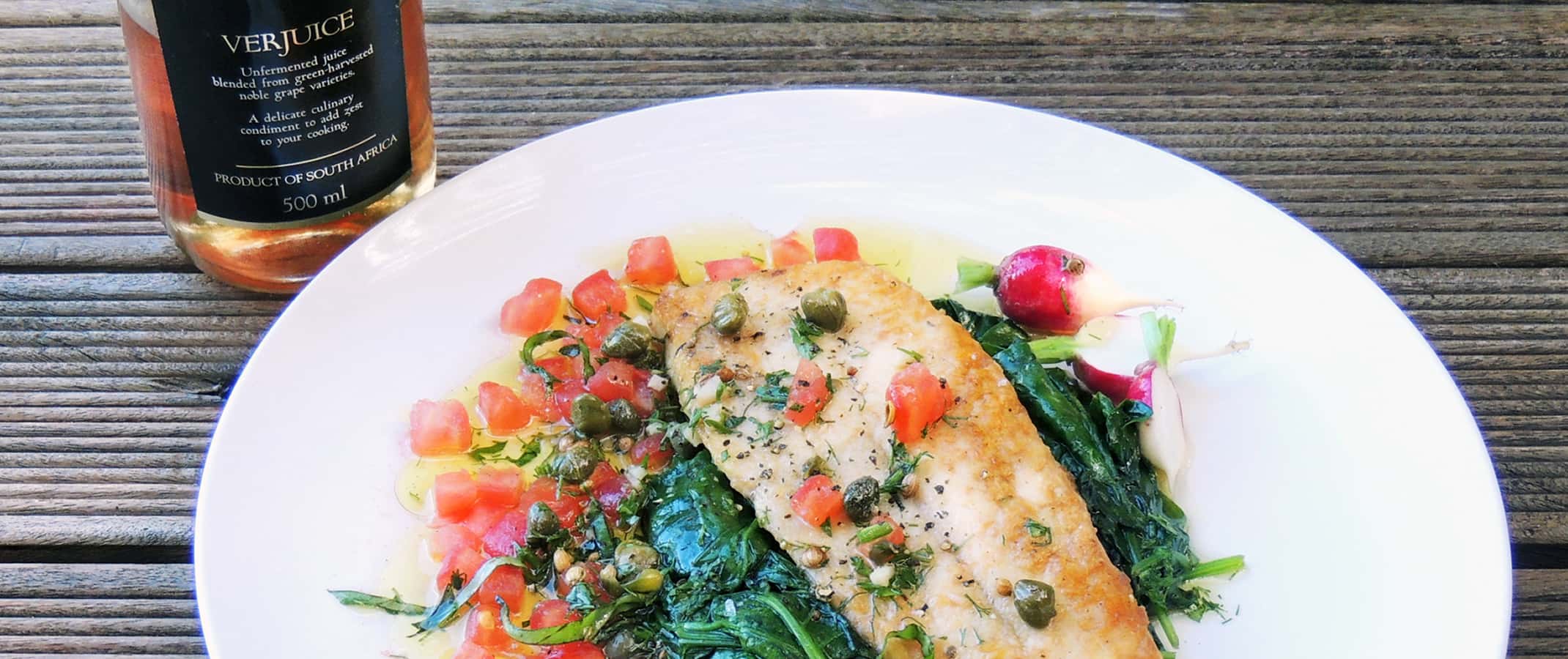 Verjuice has a tart, sweet, subtle flavour that combines beautifully with fruity olive oil and fresh herbs. This easy warm dressing is brimming with the flavours of the south of France, and it transforms delicate angelfish fillets (a sustainable South African species) into a delicious light summer treat. Very fresh herbs are essential, and don't forget the coriander seed, which adds a surprising burst of flavour.
1. First make the sauce. Warm the olive oil, coriander seeds and garlic in a frying pan – the oil should feel very warm, but nowhere near hot. Set aside to infuse for 10 minutes while you prepare the tomatoes.
2. Make a shallow cross at the stalk end of each tomato, cover with boiling water and allow to stand for 4 minutes, or until you see the skins wrinkling. Slip off the skins, remove the pulp and seeds, and cut the flesh into neat little squares.
3. Add the tomatoes, Verjuice, all the herbs and the capers to the frying pan containing the warm olive oil. Set aside.
4. Place the flour on a plate and season with salt and black pepper. Lightly coat the fish fillets on both sides with flour and shake off the excess. Heat the oil and butter in a frying pan and fry the fish for 2-3 minutes on each side, or until just cooked through. Place on four warmed plates.
5. Return the sauce to the heat, and warm it to just above blood temperature. Add a spritz of lemon juice, to taste.
6. Generously dress each fish fillet with sauce, and serve with wilted baby spinach leaves and boiled new potatoes.
4 fresh angelfish fillets, bones removed
3 Tbsp flour
1 Tbsp olive oil
1 Tbsp butter
salt and milled black pepper
For the sauce:
½ cup fruity extra-virgin olive oil
½ tsp coriander seeds, lightly crushed
2 cloves garlic, peeled and very finely chopped
2 large, ripe tomatoes
boiling water, for skinning the tomatoes
½ cup Verjuice
2 Tbsp finely chopped fresh dill or fennel tops
2 Tbsp finely sliced fresh basil
2 Tbsp finely chopped fresh parsley
3 Tbsp (45 ml) capers, drained
a squeeze of lemon juice