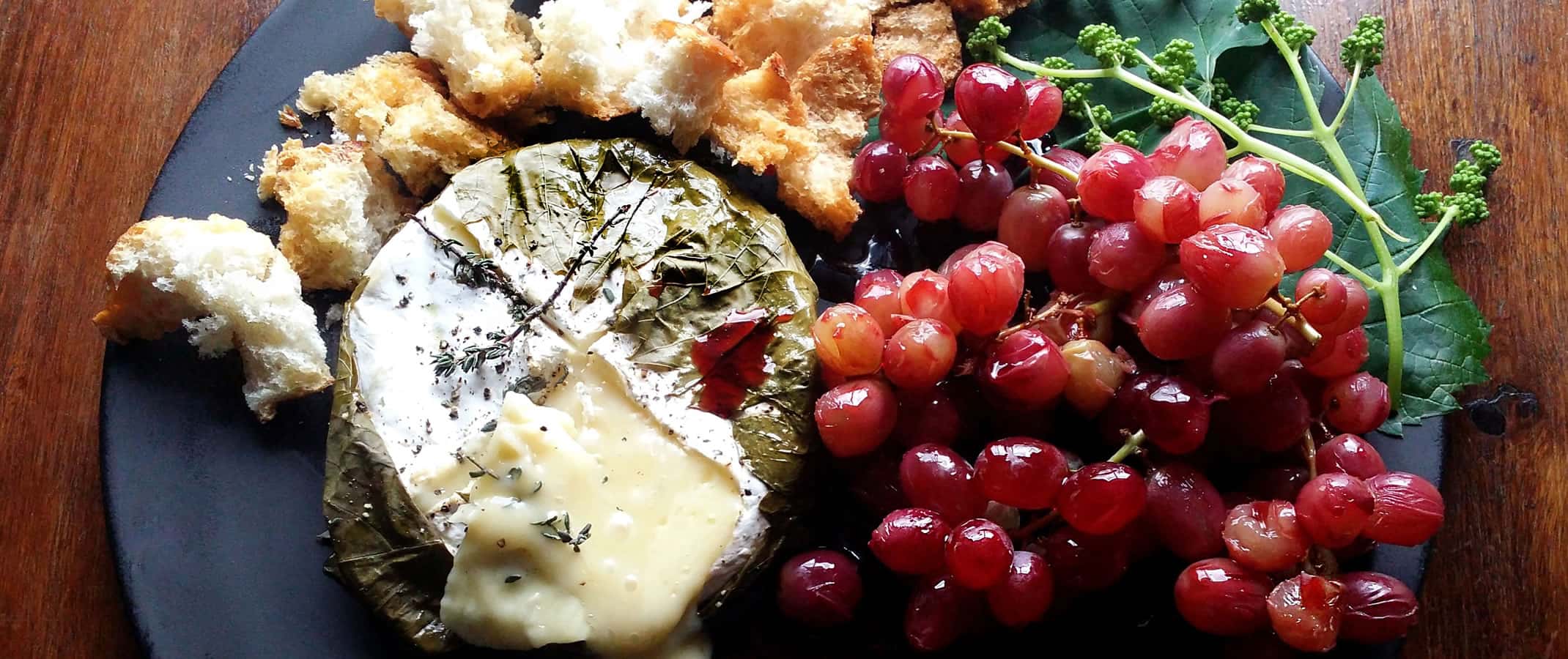 A gorgeous, jewel-bright starter that combines hot oozing Camembert with sharp-sweet grapes lightly poached in Verjuice. If you don't have fresh vine leaves, use blanched baby spinach leaves to wrap your Camembert.
Heat the oven to 180 ºC.
1. To prepare the vine leaves and grapes, pour the Verjuice into a shallow pan and bring to a simmer. Spread a large sheet of clingfilm on the counter. Blanch the vine leaves by dipping each one in the Verjuice for 10 seconds. Spread on the clingfilm to dry.
2. Add the honey and thyme to the Verjuice, then lay the grapes in the pan, on their sides. Poach at a gentle simmer for about 7 minutes, turning the bunches often, or until the skin is splitting and fruit is just beginning to collapse. Remove the grapes and set aside to drain in a colander.
3. Turn up the heat and boil the Verjuice until it has reduced by about half, and is slightly thickened and glossy. Set aside.
4. Cut an X shape across the top of the Camembert and push a few thyme sprigs into the slits. Wrap the cheese in the blanched vine leaves, then set it on a sheet of baking paper. Wrap to form a loose parcel and secure with string. Place on a baking sheet and bake at 180 ºC for 7-10 minutes, or until the cheese feels very soft and oozy.
5. Remove the baking paper and put the cheese on a platter with the poached grapes. Drizzle the Verjuice syrup over the grapes, and serve immediately with crisp golden croutons or Melba toast.
Serves 4 as a starter or snack.
For the grapes:
1 cup (250 ml) Verjuice
4 large vine leaves, or 6 baby spinach leaves, stalks removed
1 Tbsp (15 ml) honey
1 large sprig thyme
2 small bunches sweet red grapes

For the cheese:
1 x 250 g just-ripe Camembert
a sprig of thyme
black pepper
To serve:
oven-baked croutons or Melba toast